Venue
Zephyr Grill & Bar Livermore
1736 First Street
Livermore, CA, United States, 94550
Join us Tuesday, January 17th at 6PM as we welcome one of Livermore Valley's most popular wineries, Wood Family Vineyards!
Wood Family Vineyard, is a small family winery located in the South Eastern hills of Livermore Valley. They specialize in wine made exclusively from Livermore Valley grown grapes. Rhonda Wood (the winemaker) resigned, after 17 years as an airline pilot, from US Airways and created 10 different lots for a total of 1500 cases. Nowadays they produce around 5500 cases a year with over 16 different lots of wine. Everything from award-winning Chardonnay down to their Zinfandels.
FOR AN EXCLUSIVE 5-COURSE WINEMAKER'S DINNER WITH A MENU CREATED BY EXECUTIVE CHEF JESUS MARTINEZ.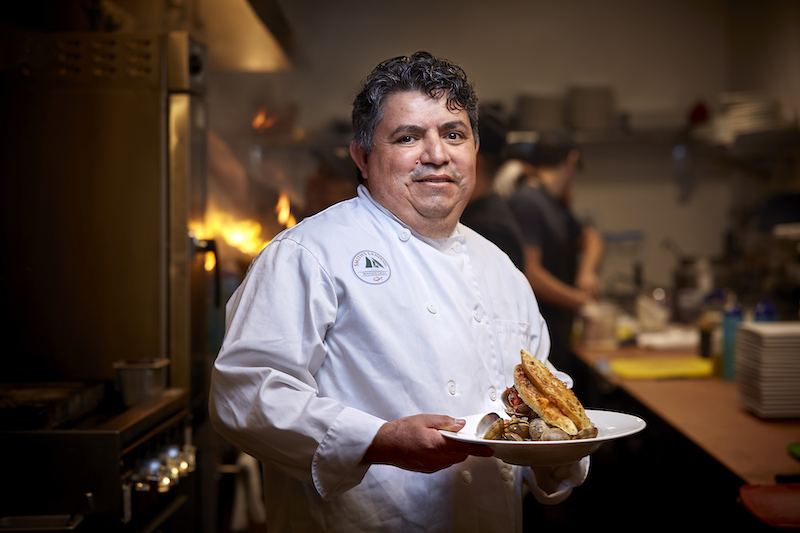 Chef Jesus graduated from culinary school in Mexico and has been in the restaurant industry for 23 years. He also oversees the menu at Zephyr Grill's locations in Livermore and Brentwood. With winemaker's dinners such as these, Chef Jesus says he enjoys the "challenge of finding the flavors and dishes that pair with the wines."
One of the most versatile chefs in the area, Jesus enjoys regularly changing up the menu at all three restaurants he oversees, and owners Lynn and Randy Tei say "he does it all" — Italian cuisine, Chinese, American, French, Asian, and Mexican. For special events like the winemaker's dinners, "he does a fantastic job bringing out the complex wine notes with his dishes," Lynn said. A "foodie" at heart, when Jesus isn't working, he lovingly tends to his herb garden and fruit trees. Over the years, Chef Jesus has collaborated with several local wineries, including Bloomfield Vineyards, Petersen Vineyards, and McGrail Vineyards, to name a few.
FOR AN EXCLUSIVE 5-COURSE WINEMAKER'S DINNER WITH A MENU CREATED BY EXECUTIVE CHEF JESUS MARTINEZ.
$95.00 PER PERSON EXCLUSIVE OF 20% AUTO GRATUITY AND SALES TAX.
$19.00 – 20% Auto Gratuity
11.68 – Sales Tax
$125.68 – GRAND TOTAL
1st Course
Mulled Wine-Cured Salmon: Wintery spices like cinnamon, nutmeg & cloves are used to cure the salmon & for a mulled wine glaze. Garnished with Tobiko, Crème Fraiche, golden beet & blood orange, on brown soda bread toast.
Paired with 2021 "Para Mas Amigas" Chardonnay
******************************************************************
2nd Course
The Captain Bucatini: Bucatini pasta cooked in Wood Family "The Captain" red wine. Tossed with roasted garlic Rapini, Calabrian Chili Peppers & Ricotta Salata. Drizzled with EVOO.
Paired with 2020 "The Captain" BDX Red Wine
******************************************************************
3rd Course
Pan-Seared Breast of Duck:Ancho chili marinated, cilantro scallop potatoes & an ancho honey sauce.
Paired with 2019 "Muy Bueno" Zinfandel
*****************************************************************
4th Course
Filet Mignon: With a dark onion soubise & stuffed mushrooms.
Paired with 2019 "Woody's Cab" Cabernet Sauvignon
******************************************************************
5th Course
Cocoa Profiteroles: Almond ice cream,
candied almonds & chocolate sauce.
Paired with 2020 GMS